Mosaic furniture adds colour and design to almost any setting.
If you are decorating your home or office and looking for a special piece to offset the space perfectly, you should definitely consider purchasing some form of mosaic furniture.
What is mosaic furniture?
Mosaic furniture is any sort of furniture that has a mosaic design on the entire surface or part of the surface of the design.
A mosaic itself is a design made up by chips of glass or ceramic material. The chips can be made up of different colours or hues. The chips are stuck onto a base of glue or another sticky substance.
Sometimes, a mosaic can be made out of small pieces of paper and covered with a sheet of glass or laminating substance.
The mosaic design could be an actual picture representing something or someone, or it could simply be a beautiful pattern of different colours.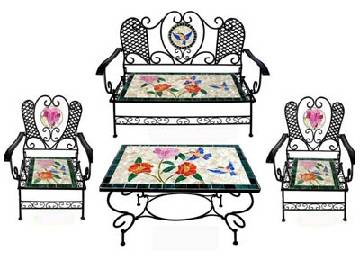 Where can you find mosaic furniture?
There are stores that stock and sell mosaic furniture of all different types. There are several different options for finding mosaic furniture including the following:
Commission something from an artist
You could contact an artist or studio who design and create mosaic furniture. Choose a design and the artist will create it for you.
This is a great idea for if you want your own picture or design on your furniture.
Buy something from a furniture store
You could browse already made furniture from a furniture store that have beautiful mosaics on them.
Buy something from a second hand store
There are second hand furniture stores and pawn shops that offer a range of different mosaic furniture pieces.
You could find a piece of furniture that is antique and really beautiful for a very good price.
How to choose the right piece for your home
When you are choosing a piece of mosaic furniture for your home there are several things that you should keep in mind.
Firstly, never buy too many mosaic pieces as they could become quite overwhelming in one space. In a lounge, one large, beautiful coffee table with a mosaic design is more than enough to set the room off perfectly.
Secondly, choose a mosaic that has several different colours that go well together. You can then use the piece in another room at a different time, or change the decor of the first room and be assured that your mosaic piece will match the room.
Lastly, make sure that your mosaic pieces are stuck down properly to avoid damage. A laminate cover or a glass sheet will offer extra protection, especially if the mosaic surface is the surface in use.
Making your own mosaic furniture
One great way to get the perfect piece of furniture for your space is to make it yourself. For example, if you have an old bookshelf that you want to revamp, you could put a mosaic design down the side, across the top or along the shelves.
You will have to invest in some old ceramic tiles or coloured glass and some glue. Wrap the tiles or glass in an old, thick tile and hit them with a hammer or brick to break them into pieces of the right size.
Be careful of glass shards!
Tips to choosing and buying mosaic furniture
Make sure that your piece is timeless because it will stand out from the rest of your furniture and décor and you don't want to regret your purchase.
Make sure the piece is well protected and that you maintain it properly.
Don't put the mosaic in a place or room where it can be easily damaged.
Make sure you buy your mosaic furniture piece from a reputable seller who is well-known for dealing in good quality furniture.