In the furniture catalogue at Mr Price Home, you will find a range of quality furniture items at very competitive prices. Mr Price Home has become one of South Africa's leading furniture retailers, providing furniture and other items known for their functionality, good looks, and affordability.
The items in the catalogue can be divided into a number of categories according to different rooms in the house: lounge furniture, bedroom, dining room, office, outdoor and patio furniture, and kids and baby furniture. Most items are manufactured under the Mr Price label, but Sealy and Edblo beds are offered at certain stores.
Some of the items you can look forward to in the latest Mr Price catalogue are:
A Linden weave Camden 2 seater couch for R1999,99, available in midnight, steel and chilli.
Mock suede tub chairs available in a variety of colours for R999,99.
A white, 4 piece patio garden lounge set (with 2 single seater chairs, a double seater chair, and a coffee table) for R4999,99.
An Acacia chair for R299,99, and an Acacia table for R399,99.
A dark wood metro 6 seater dining room table for R2499,99, which would pair well with textured high back chairs selling for R799,99. The chairs are available in a range of colours and designs.
As a budget dining room option, the 6 seater Miami dining table is selling for R1499, 99.
The Mr Price furniture catalogue can be accessed online (http://www.mrpricehome.com), in Mr Price Home stores, or in newspapers and other advertising features. The furniture is available on 12 or 24 repayment terms, the details of which are included in the catalogue.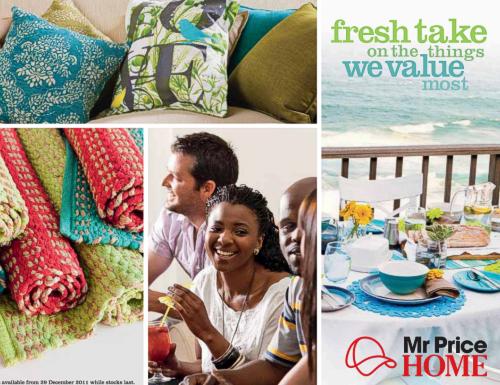 How to order from the furniture catalogue:
If you see a must-have furniture item in the furniture catalogue at Mr Price Home, your first step is to contact or visit your local Mr Price Home branch to see if they have the item in stock. Due to size constraints, not all of the items advertised will be sold at every store, but you won't have to drive to the warehouse if your local outlet doesn't have your prized piece. Rather, place an order at the store, where the store assistant will create an order for you on the system administration. You will need to provide item information and your details, as well as an order deposit (of a minimum of 50% of the total furniture item cost). This amount can be paid via the internet, in-store, or though a bank transfer before your item can be delivered. Once the order is made, an Order Document will be issued and a Customer Liaison will check for the availability of the item you ordered. If the item is in stock, you will be contacted to finalise the logistics of your delivery.
How much will delivery cost?
The delivery charge for the item you have ordered is based on the distance the item will be delivered. The minimum charge is R285 for 50km or less, R385 for 100km or less, and R483 for distances of 101km-150km. If the distance is over 150km, an additional R6.50 will be charged per km.
If you visit a Mega, Ultra, or Super store, you can purchase furniture items you like directly off the floor or from the stockroom and pay at the cashier. These stores have stock of items stored in stockrooms, so you are more likely to be able to find the furniture that you like without having to place a special order. If you are buying an item in storage, you will be issued with a collection note once you have paid for it. You use this document to collect your furniture from the store's despatch area.
With such a range of furniture items at affordable prices, you will be spoilt for choice when you browse through the Mr Price Home furniture catalogue.