Your beautiful baby is on the way and yet you're not really sure what baby furniture to get. There is so much choice and styling your baby's room can seem like a huge stress. Everyone has to start somewhere, and this article will help you to get into those stores, and get what you want in a flash.
First, you need to decide what your budget for baby furniture is. If it is large there are a number of kids stores out there, waiting for you to come in and buy new cots and nursery decorations. There is a huge range of designer goodies for your kids, which can mean you end up decorating more than your baby's room. If you have a smaller budget, never fear! There is the potential to find modern second hand baby gear. Some stores offer used cots at a reduced price, and you can always do a quick Internet search to find the best quality goods for your kids.
Second, you need to develop a theme for the nursery. Looking in home magazines can help you to develop the room's style which can help you to look for the right modern, designer or classic goods. Everyone wants the best for their kids and shaping their room's identity is the first step to shaping your lives together. You can compliment their cots and furniture with a range of photographs, toys and decorations. Looking in second hand stores can be a really great way to find authentic antique baby toys, rattles and room accessories.
Finally there's the question of whether your baby is a boy or a girl. Colour coding the room can help you to feel excited about the present that's coming your way. If you don't know the baby's gender it can be nice to stick to neutral colours for the walls and experiment with different colours in the furniture and accessories. A nursery will be your child's first home, and finding the perfect baby furniture can make it a home he or she will feel loved and happy in.
Second Hand Childrens Furniture
Second hand children's furniture is a great way for new parents to save some money in a very stressful financial period. Although you may want to buy new furniture for your child as you want what you think is the best for them, the cost involved are steep which may leave parents in financial debt. So why not consider second hand furniture as there are hundreds of outlets which understand the financial pressures that parents face and have numerous quality second hand goods on offer. Instead of worrying about your finances why not take a look at what is on offer.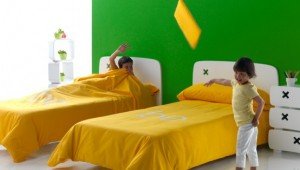 If you think about it, it makes more sense to purchase second hand children's furniture as you will have to get rid of the furniture as your child grows which means that you will have spent all of that money for something that will only last a few years at most. There are a number of online portals where you can look for and sell second hand furniture for children such as www.kidzworld.co.za and www.mybabybuys.co.za. So why put yourself under added financial pressure purchasing new furniture for your baby or child when you can purchase great quality second hand goods at extremely reasonable prices?
For those of you who are looking to sell your child's furniture once they have outgrown it, the above mentioned websites also provide a way in which you can do so. However furniture is not the only thing that you can sell to these places, clothes that have become too small for your growing child can also be sold to these second hand stores. Although you may think that buying new products for your children is what is best for them, you have to consider how much money you could save on purchasing second hand children's furniture.